---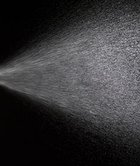 Atmospheric aerosol
Atmospheric Physics Department
Within the Aerosol Group activities we conduct research on the direct impact of atmospheric aerosol on the climate system based on the observations and modeling of the short- and long-wave radiation transfer in the atmosphere. We study optical and microphysical properties of aloft aerosol based on in-situ measurements, active and passive remote sensing and numerical simulations. We develop measurement techniques and data processing methods, for remote probing of the lower troposphere using tethered drones, balloons and modern lidar technology. We conduct experimental research in Warsaw at Radiative Transfer Lab (RT-Lab) coordinated by Krzysztof Markowicz and Remote Sensing Lab (RS-Lab) coordinated by Iwona Stachlewska, at a national level as a co-founder of the Poland-AOD research network, as well as abroad within the AERONET, EARLINET, CLOUDNET networks. We have a large record of collaborative work within various international cooperations in Europe and Noth America and Arctic.
Research project
Research & Development Project
Research & Organizational Project
Field Experiment
Research service
Research & Development service
Associates
Współpracownicy nie afiliowani przy IGF / Collaborators not affiliated with IGF.
Current or past collaboration in the framework of RT-Lab lead by Krzysztof Markowicz: Juliusz Braun, Michał Chiliński, Dominika Czyżewska, Grzegorz Florczyk, Kamila Harenda, Aleksandra Kardaś, Justyna Lisok, Aneta Maciszewska, Maciej Miernecki, Michał Posyniak, Katarzyna Nurowska, Dorota Gutowska
Current or past collaboration in the framework of RS-Lab lead by Iwona Stachlewska: Karolina Borek, Montserrat Costa-Surós, Rafał Fortuna, Anna Górska, Afwan Hafiz, Kamila Harenda, Łucja Janicka, Maciej Karasewicz, Kinga Kulesza, Aleksandra Lewczuk, Alexandros Louridas, Szymon Migacz, Fatima Mirza-Montoro, Katarzyna Misiura, Patryk Poczta, Konstantina Nakoudi, Anca Nemuc, Pablo Ortiz-Amezca, Michał Piądłowski, Matthis Resch, Zuzanna Rykowska, Mateusz Samson, Paulina Sokół, Horatiu Stefanie, Paweł Swaczyna, Dominika Szczepanik, Artur Szkop, Eleni Tetoni, Artur Tomczak, Emaka Ugboma, Dongxiang Wang, Anna Zielińska-Szkop, Olga Zawadzka-Mańko