---

Laboratory of Vacuum Techniques in Geophysics and Planetology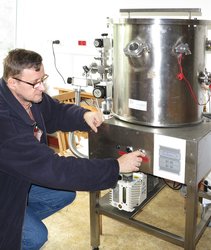 Laboratory of Vacuum Techniques in Geophysics and Planetology
This laboratory was originally organized to study geophysical processes on the surfaces of comets and another atmosphere less cosmic bodies rich in ice. The investigated processes include:
- erosion driven by the sublimation of different ices, or complex materials containing ice,
- the occurrence of landslides due to the outgassing of subsurface material.
The laboratory research is performed using our own vacuum chamber.